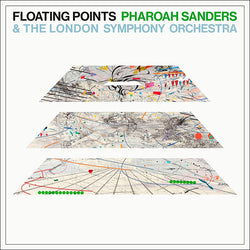 Floating Points / Pharaoh Sanders - Promises 180g Ltd Edition Vinyl LP
TWC are proud to announce that we are now stocking a selected few of our favourite albums on Vinyl. These are stocked in very limited quantities. 
Promises is the result of three distinct musical worlds colliding. Pharoah Sanders' jazz improvisation and Flo Po's twinkling electronics are layered over the string section of the LSO, bound together by a loose symphonic structure. These are textures that rarely sit together in a single composition, yet somehow they seamlessly knit into a cohesive whole. It's quite a feat, one that could only be pulled off by artists as accomplished as these.

The entire album revolves around a recurring phrase played by Sam Shepherd on the piano, harpsichord and celesta. This phrase becomes the central pulse around which the other textures float, suspended in the space inbetween. The loose tempo allows for the improvised saxophone passages to flow freely and for Pharaoh to lean into the most tender moments of his performance.

Promises is an album of subtle expression which invokes a feeling of boundlessness. It's a wide open sonic space where each note is allowed to resonate to its full conclusion. There's a constant feeling of push and pull, of tension and release, though it never really resolves fully. Something is always left hanging in the air - a question, a prayer, an inexplicable feeling. It's perhaps one of the most surprising and profound releases of the year. 
2021 release

Limited Edition Die cut sleeve

180g Audiophile vinyl 
If this item is out of stock or if there is a particular record you are after please get in touch 
***Due to type of product we cannot accept refunds or exchanges
FREE SHIPPING ON ORDERS OVER £200




UK - ORDERS BELOW £200 ARE SENT VIA ROYAL MAIL 1ST CLASS SIGNED FOR, STANDARD CHARGE £4.95 




EU & INTERNATIONAL - ORDERS WILL BE SENT VIA DHL or Ups EXPRESS SERVICE. these DELIVERY CHARGES ARE AUTOMATICALLY CALCULATED AND WILL BE DISPLAYED AT THE TIME OF ORDERING, JUST BEFORE PAYMENT IS TAKEN. 




DUTY - IF APPLICABLE IN YOUR COUNTRY, ALL CUSTOMS AND/OR IMPORT DUTIES ARE AUTOMATICALLY CALCULATED AND WILL BE DISPLAYED AT THE TIME OF ORDERING, JUST BEFORE PAYMENT IS TAKEN. UNFORTUNATELY, WE HAVE NO CONTROL OVER THESE CHARGES, AS CUSTOMS POLICIES AND IMPORT DUTIES VARY WIDELY FROM COUNTRY TO COUNTRY. ALL ORDERS ARE SENT DDP (DELIVERED DUTY PAID) SO THE RECEIVER WILL NOT INCUR ANY FURTHER CHARGES.