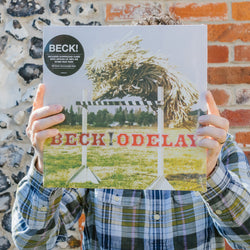 Beck - Odelay 180g Vinyl LP (inc download)
TWC are proud to announce that we are now stocking a selected few of our favourite albums on Vinyl. These are stocked in very limited quantities. 
Unlike Stereopathetic Soul Manure and One Foot in the Grave, the indie albums that followed his debut Mellow Gold by a mere matter of months, Odelay was a full-fledged, full-bodied album, released on a major label in the summer of 1996 and bearing an intricate, meticulous production by the Dust Brothers in their first gig since the Beastie Boys' Paul's Boutique. Odelay shared a similar collage structure to that 1989 masterpiece, relying on a blend of found sounds and samples, but instead of lending the album its primary colours, the Dust Brothers provided the accents, highlighting Beck's ever-changing sounds, tying together his stylistic shifts, making the leaps from the dirge-blues of "Jack-Ass" to the hazy party rock of "Where's It's At" seem not so great.
Like Mellow Gold, Odelay winds up touching on a number of disparate strands -- folk and country, grungy garage rock, stiff-boned electro, louche exotica, old-school rap, touches of noise rock -- but there's no break-neck snap between sensibilities, everything flows smoothly, the dense sounds suggesting that the songs are a bit more complicated than they actually are. Like a mosaic, all the details add up to a picture greater than its parts, so while some of Beck's best songs are here, Odelay is best appreciated as a recorded whole, with each layered sample enhancing the allusion that came before
Reissued in 2016
Heavy Weight 180g audiophile pressing
Includes download code
If this item is out of stock or if there is a particular record you are after - please get in touch  
***Due to type of product we cannot accept refunds or exchanges

FREE SHIPPING ON ORDERS OVER £200




UK - ORDERS BELOW £200 ARE SENT VIA ROYAL MAIL 1ST CLASS SIGNED FOR, STANDARD CHARGE £4.95 




EU & INTERNATIONAL - ORDERS WILL BE SENT VIA DHL or Ups EXPRESS SERVICE. these DELIVERY CHARGES ARE AUTOMATICALLY CALCULATED AND WILL BE DISPLAYED AT THE TIME OF ORDERING, JUST BEFORE PAYMENT IS TAKEN. 




DUTY - IF APPLICABLE IN YOUR COUNTRY, ALL CUSTOMS AND/OR IMPORT DUTIES ARE AUTOMATICALLY CALCULATED AND WILL BE DISPLAYED AT THE TIME OF ORDERING, JUST BEFORE PAYMENT IS TAKEN. UNFORTUNATELY, WE HAVE NO CONTROL OVER THESE CHARGES, AS CUSTOMS POLICIES AND IMPORT DUTIES VARY WIDELY FROM COUNTRY TO COUNTRY. ALL ORDERS ARE SENT DDP (DELIVERED DUTY PAID) SO THE RECEIVER WILL NOT INCUR ANY FURTHER CHARGES.